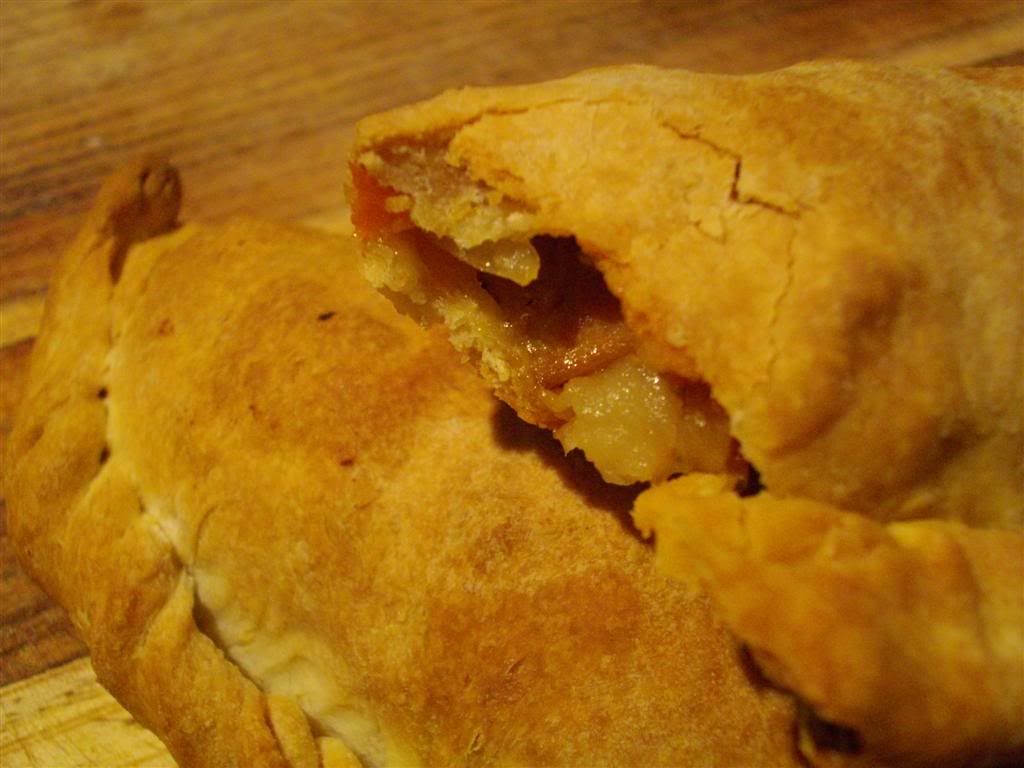 Empanada
is a Spanish stuffed pastry. It comes from the word empanar meaning 'to wrap in bread'. This recipe was based on a recipe from the cookbook
Mexican Cantina Cooking
bought on sale from
Borders
:)
The empanada (otherwise known as a turnover) can be made with various options for the filling : chicken, beef, vegetables, cheese, or even fruit for a dessert empanada. The filling for this particular empanada is made of leftover sausages, minced so as to resemble minced meat, and cooked with minced potatoes and carrots.
To make the pastry :
200ml water
80g butter
1 egg
pinch of salt
350g plain flour (I used 200g plain flour, 150g wholewheat flour)
Meanwhile, make the filling:
12 cooked leftover small sausages (chipolatas, in this instance), minced (or diced if you want it chunky)
1 small onion, minced
2 cloves garlic, minced
1 tomato, minced
1 carrot, cut into small cubes
1 potato, cut into small cubes
1 celery stalk, cut into small cubes
fresh oregano, minced
2 chillies, minced
salt and pepper to taste (or a splash of soy sauce)
cooking oil (vegetable/oil/corn oil)
While filling is cooling, get dough and divide into 12 pieces. Roll into thin rounds.
Place a couple of heaping tablespoons of the filling in the center of the dough and fold dough into a semi circle.
fold by fingers, or fork it!
You can either fold the sides of the dough to seal it, or use a fork to seal edges. Brush with egg wash, and bake in 180C for around 25minutes. (don't forget you can also fry it if preferred!)

Serve with tomato sauce and mustard. You can use whatever meat or minced meat instead of the leftover sausages - this time around it was just a necessity to make something more exciting out of the snags!