So. One day officemate sends me a link for a meatcake, and found myself thinking, yeah, I can do that! Besides, muffins and (some) breads were beginning to be a bit monotonous so why not do something new? This was the perfect opportunity.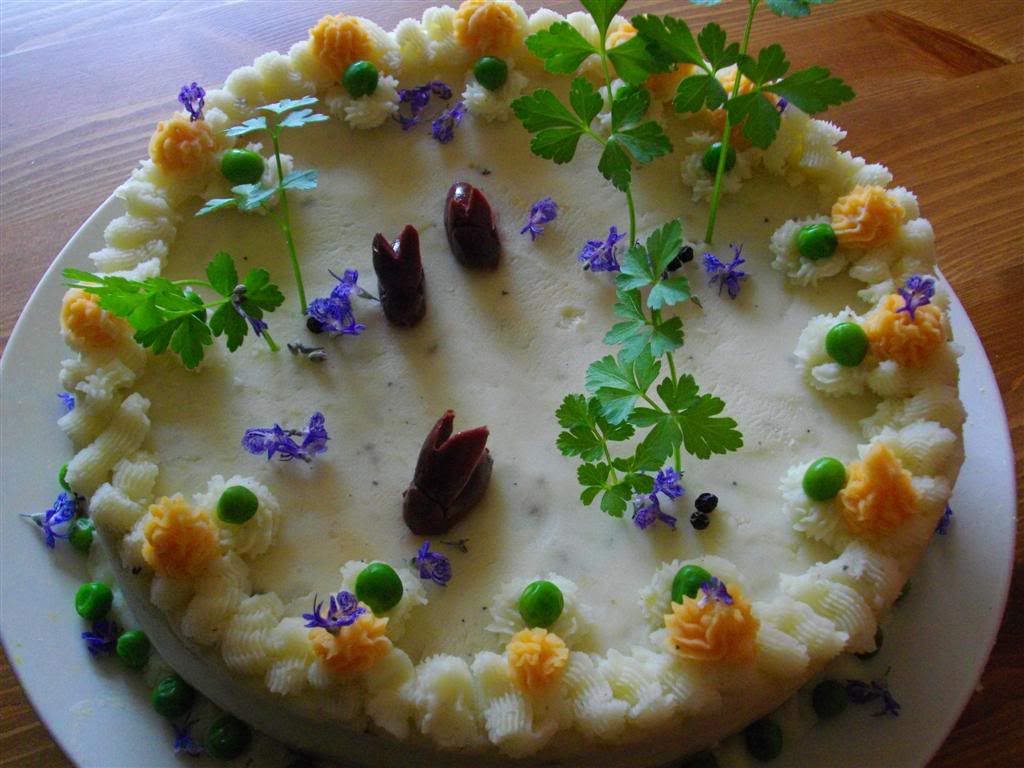 my version of a meat cake
This 'cake' was made with :
1 kg veal mince, spiced with
(about) 1 tsp ground coriander
1 tsp ground cumin
1/2 tsp turmeric
sprinkling of paprika
salt and pepper to taste
3 eggs
3/4 cup breadcrumbs
1 onion minced and 4 cloves garlic cooked until the onions are translucent in a bit of olive oil
All mixed together by hand and baked for about 50 min in a 180C oven in a circular 9" baking tin.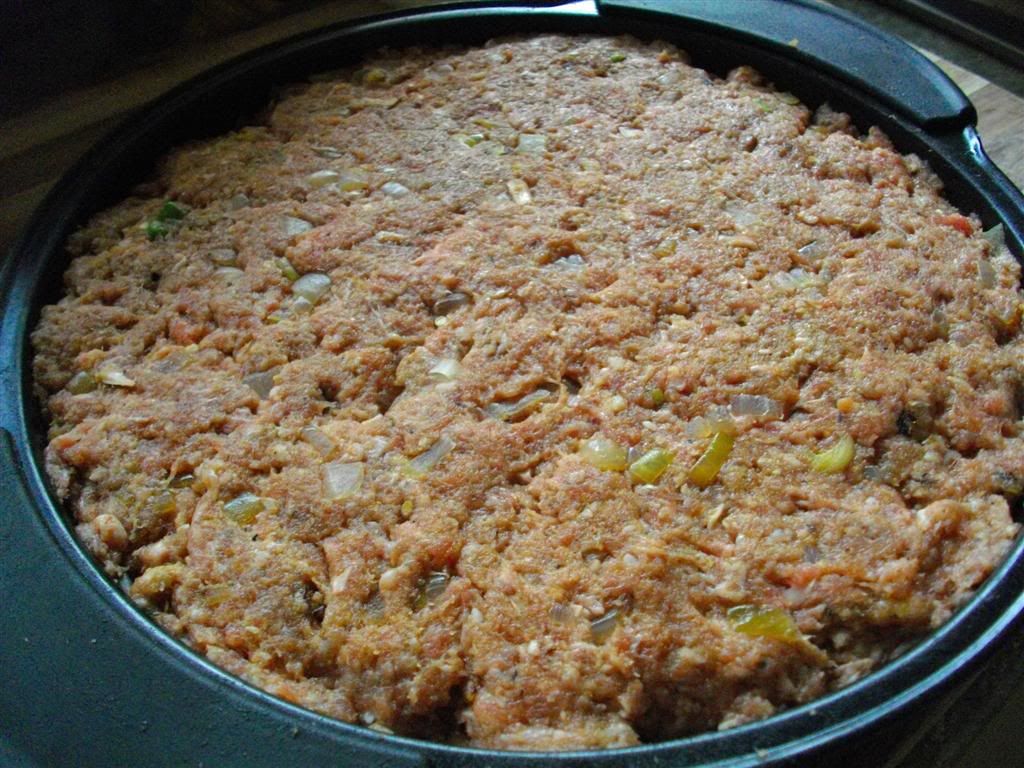 The 'icing' was made of 20 small (really quite small) potatoes (well they were the ones I had so might as well use them!), boiled with skin on until cooked through, then the skin is discarded and then mashed with a knob of butter and a glug of olive oil, salt and pepper.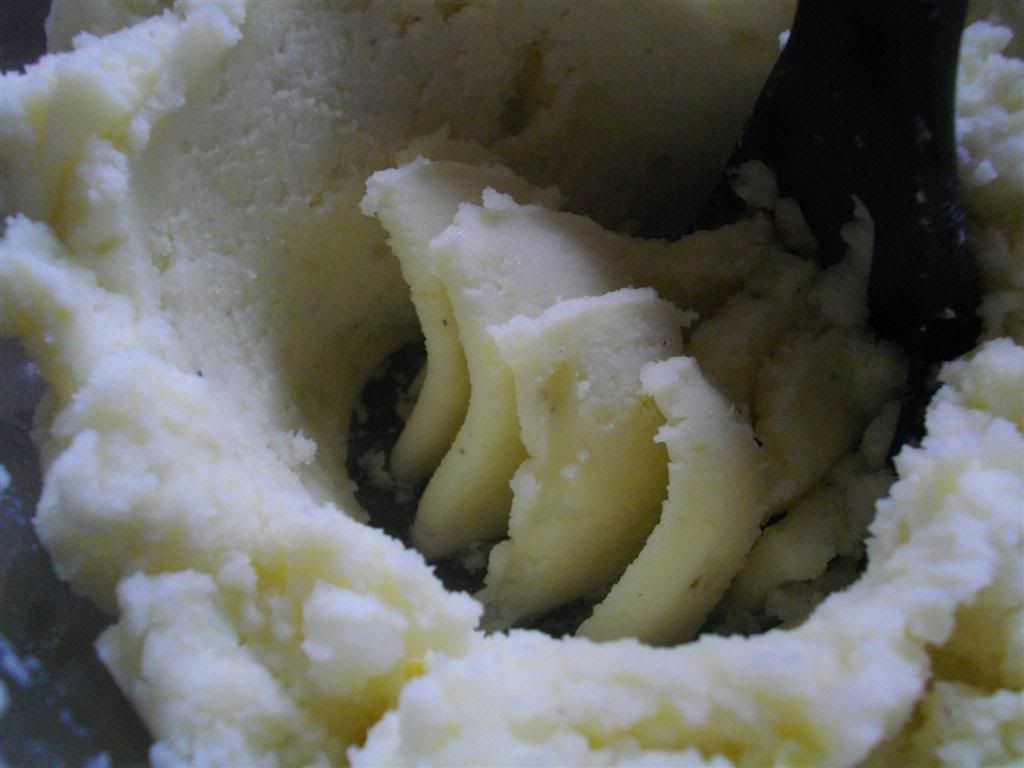 After reading the Black Widow's post obviously the key was getting the texture and consistency right - a mash too sticky may be a bit too hard to handle, and a 'meatloaf' too wet may not hold together. I was a bit lucky that the stuff held their shape!
I also made a thick tomato sauce made of 1 tin of whole tomatoes, 2 teaspoons tomato paste, half an onion and 3 cloves garlic. Figured since the meatloaf could be a bit 'dry' the tomato sauce would give it a bit more moisture.
So when the meatloaf was cooked through, it was left to cool for a bit and using a carving knife (which was long enough to assure me that at least i would cut through midway without completely destroying it), I divided the 'meatloaf' into two. (If I had 2 baking tins of the same size that would have probably saved me the trouble).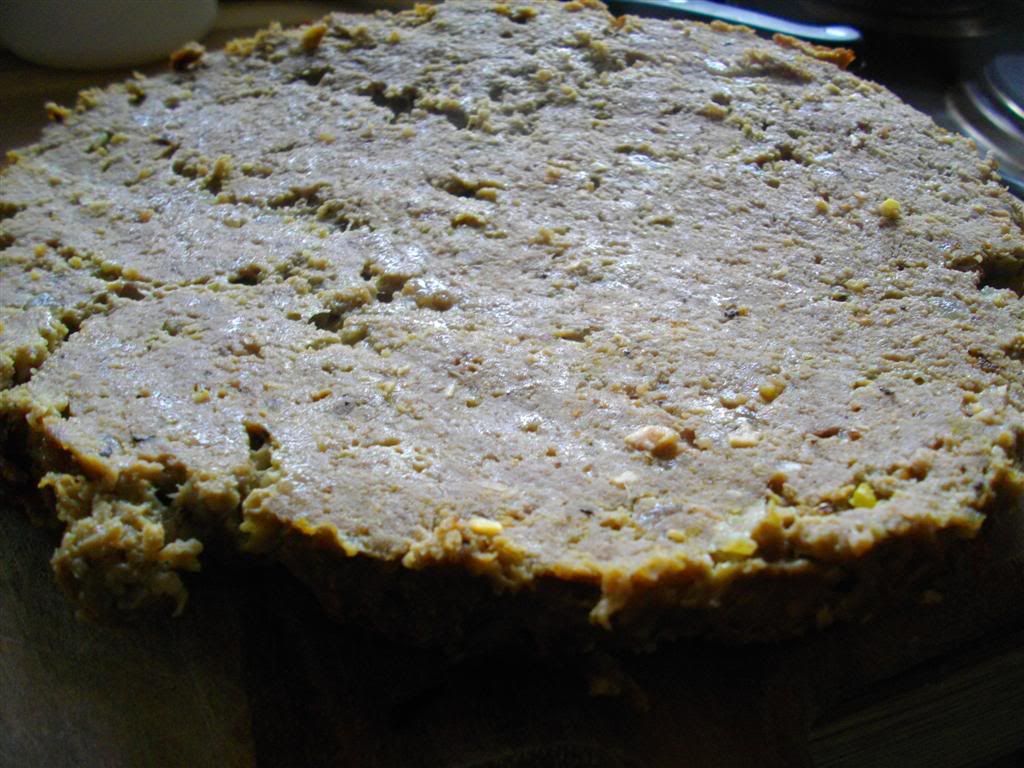 Then the tomato sauce was sandwiched in between.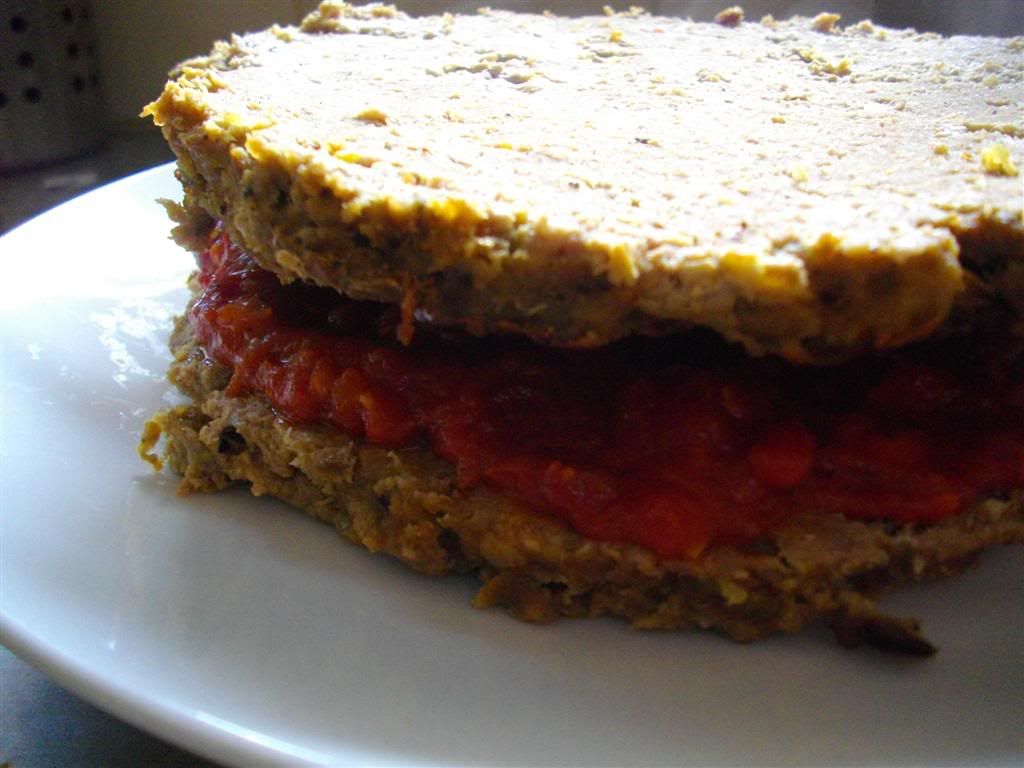 yes, like a giant burger
The mashed potatoes were then slathered on to cover this beast of a burger using a palette knife. I was getting a bit more excited at this stage :)
And to make it pretty, the rest of the mashed potatoes were placed in a piping bag and I just played around with the nozzles. The basic border was put in (and the beauty of these mashed potatoes is that if you did it wrong you can pick it up and try again hehe). Then there was this huge blank space in the middle - if it was someone's birthday I would have just scribbled "Happy Birthday" and then, done! BUT! It wasn't someone's birthday, so had to think again of how to decorate the meat cake.
the bunny rabbits are made with black olives
fortunately the thought occured to me, primarily out of desperation as my hands were getting tired squeezing the piping bag hehehe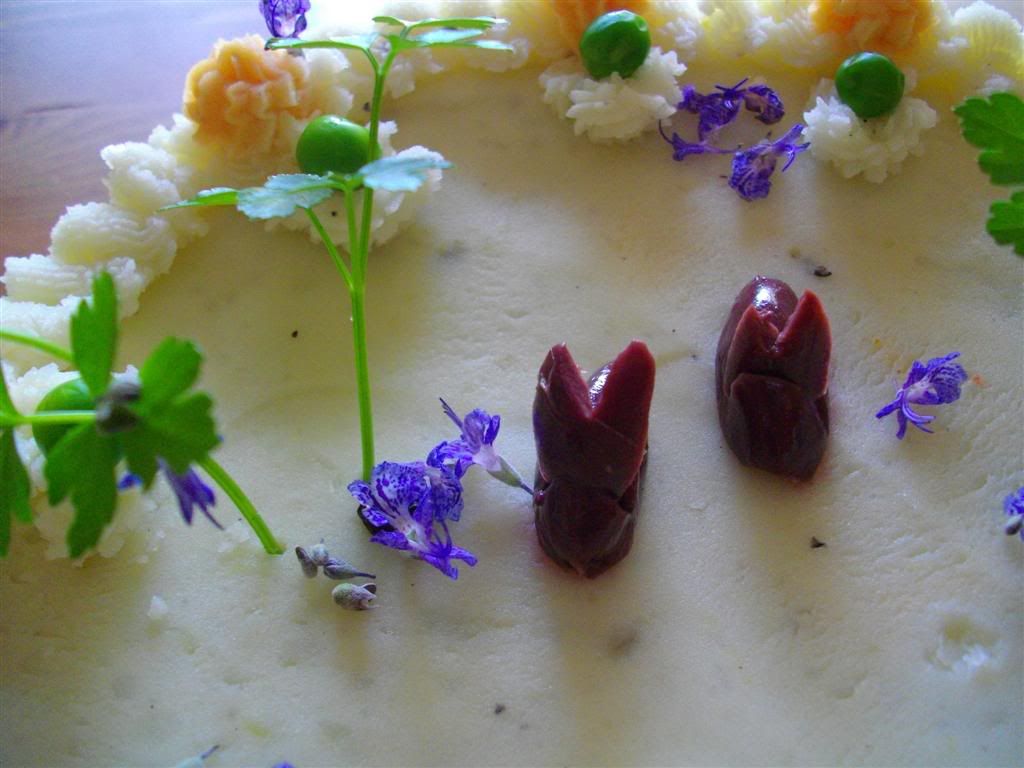 the flowers were suggested by my better half (the reason why he is BETTER)
picked up from the rosemary bush in the garden
the 'trees' were parsley - eventually they wilted though, so had to trim the 'stem'
a couple of black pepper corns to serve as 'pebbles' or 'rocks'
(or rabbit poo)!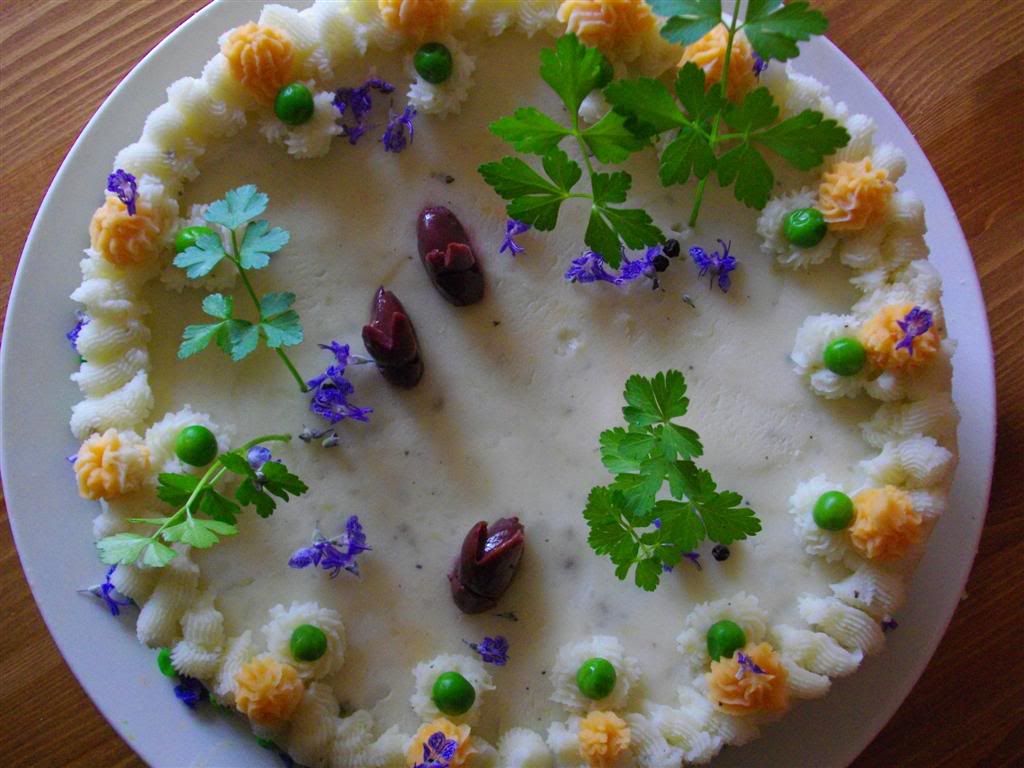 and the 'orange' colored mashed potatoes were mixed with
a dollop of ketchup (yes tomato sauce) and a bit of american mustard.
The green bits are frozen peas nuked in the microwave with a bit of water for a couple of minutes.
And that was my creative outburst for the day.
Total elapsed time to do this was 3.5 hours (including prep time, baking time, thinking about what to do next, making a
a spicy chocolate brownie
, messing around, kitchen clean up and a couple of cups of coffee - not too bad for a lazy Sunday morning!)