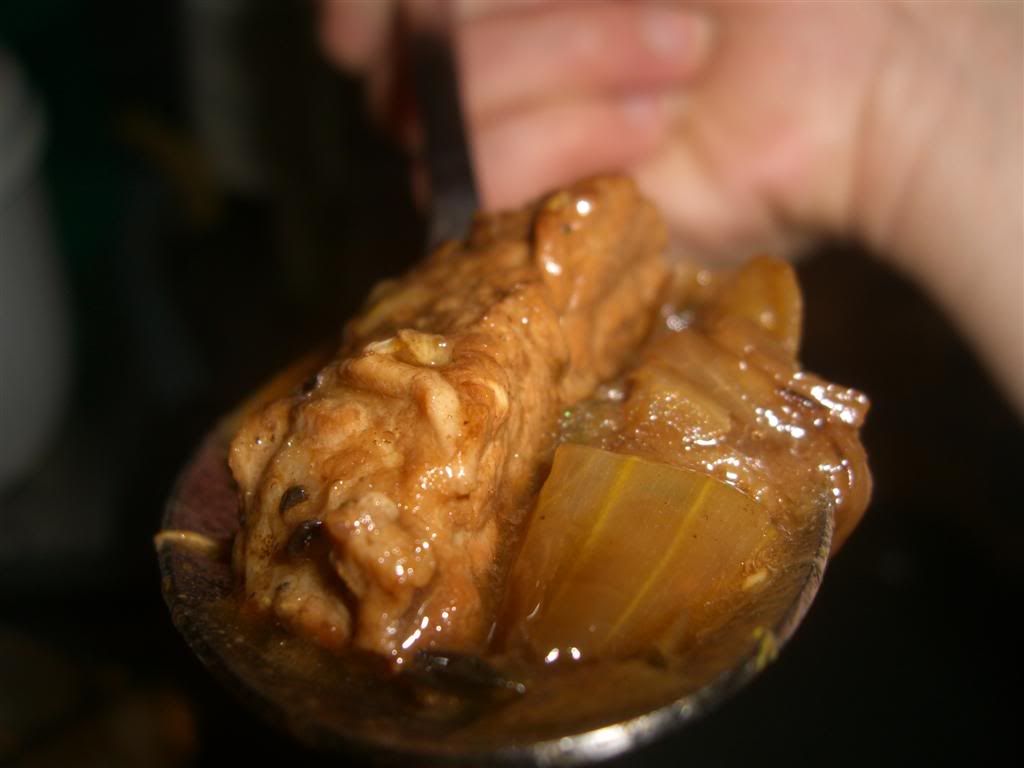 Braising this tasty piece of beef with this tasty drink was a first, but will never be the last time.
I found
the recipe
after following links to a health web site - so it must be good for you!
Being a typical recipe breaker, this version was made only with an additional ingredient - chili. Most of the other steps were followed accordingly - as this was the first attempt, it was thought to be best to stay on the safe side and follow the instructions.. at least if it doesn't turn out very well, then blame the recipe! :) Fortunately it turned out to be very good. A must try.
1 4-pound beef chuck roast , trimmed of fat
1/2 teaspoon salt, or to taste
Freshly ground pepper to taste
4 teaspoons extra-virgin olive oil, divided
2 large onions, halved and thinly sliced (4 cups)
4 cloves garlic, minced
1 teaspoon dried thyme
1 fresh red chili, minced
3/4 cup strong brewed coffee (in this case it was a Dominican blend)
2 tablespoons balsamic vinegar
1. Preheat oven to 300°F.
2. Season beef with salt and pepper. Heat 2 teaspoons oil in a Dutch oven or soup pot over medium-high heat. Add beef and cook, turning from time to time, until well browned on all sides, 5 to 7 minutes. Transfer to a plate.
3. Add the remaining 2 teaspoons oil to the pot. Add onions, reduce heat to medium and cook, stirring often, until softened and golden, 5 to 7 minutes. Add chili, garlic and thyme; cook, stirring, for 1 minute. Stir in coffee and vinegar; bring to a simmer. Return the beef to the pot and spoon some onions over it. Cover and transfer to the oven.
4. Braise the beef in the oven until fork-tender but not falling apart, 2 1/2 to 3 hours. Transfer beef to a cutting board, tent with foil and let rest for about 10 minutes.
Option to create gravy - i skipped this part, but will probably try next time :
Meanwhile, skim fat from the braising liquid; bring to a boil over medium-high heat. Add 2 tablespoons of cornstarch dissolved in 2 tablespoons cold water and cook, whisking, until the gravy thickens slightly, about 1 minute. Season with pepper. Carve the beef and serve with gravy.