A first - and successful - attempt at making this creamy Italian dish! This is based on Hugh Fearnley-Whittingstall's recipe, googled tips and a personal take on the spices that would compliment (not overpower) the pumpkin

This dish was made with Arborio rice, named after the Italian town where it is grown. This rice is particularly desirable for use in making risotto because of its high starch content, which makes the dish creamy. Like pasta, risotto is cooked 'al dente', literally 'to the bite', so it has a slightly resistant texture.



Luckily there was still some stock from a previous chicken roast, and the
sage from the garden
had a lot to offer.
This dish (serves 2 hungry adults) was made with :
400 g pumpkin, diced into small pieces
2 liters homemade chicken stock (not all would be used - it depends on the absorption of the rice)
200g arborio rice
15 sage leaves, minced
2 onions, minced
1 clove garlic, minced
Dash of grated nutmeg
Salt and pepper
Pinch of cayenne pepper (to taste)
1 teaspoon butter
Garnish :
Parmesan shavings
12 sage leaves
2 tablespoons vegetable oil/sunflower oil]
Take 350 g of the pumpkin and place on a baking tray, season with salt, pepper and nutmeg and bake at 180C for around 15 minutes.
Meanwhile, boil the rest of the pumpkin with the stock, then keep over very low heat. This is just a personal take on adding more pumpkin flavor to the stock but not overwhelming the dish with pumpkin bits.
For the soffrito (aromatic flavor base) - In a heavy based saucepan (for even heat distribution), sweat the onions until soft but not brown, add the sage and cook a bit more.
Add rice and mix until thoroughly coated with oil.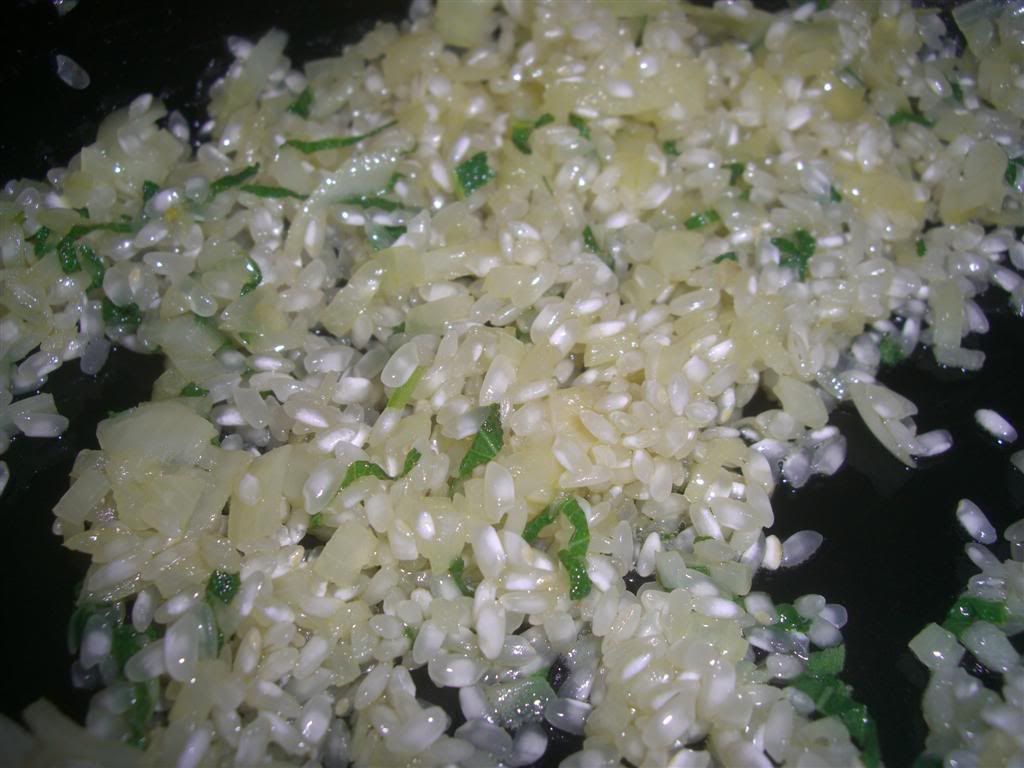 Tostatura: Toasting the rice to seal in the starch
Ladle in around 1 cup of the simmering stock or more until the rice is well covered (but not completely swimming in it!). This is when garlic was also added. Bring to a boil, stirring frequently, then let simmer until most of the stock is absorbed by the rice. Then ladle in additional stock until absorbed. This process is repeated until the rice is al dente.
When risotto is almost done, fry sage leaves in oil for just a few seconds until crisp. Place on a paper towel so that the excess oil will be absorbed away.
Remove risotto from heat. Season with salt, pepper and cayenne. Stir in the butter, garnish with parmesan shavings and the fried sage leaves, and serve.
The purpose of the butter is to mainly add to the creaminess of the risotto, but because of the pumpkin also dissolving into the mixture, the consistency almost does not require the butter. I added a bit for extra flavor anyway. (and to adhere to the concept of "Mantecatura" - The final step in making risotto, when butter or olive oil and grated cheese are vigorously incorporated into the risotto, binding the ingredients and achieving a creamy texture. :)
risotto! from "riso" meaning rice